Kim Michelle Toft
Silk Artist | Author | Illustrator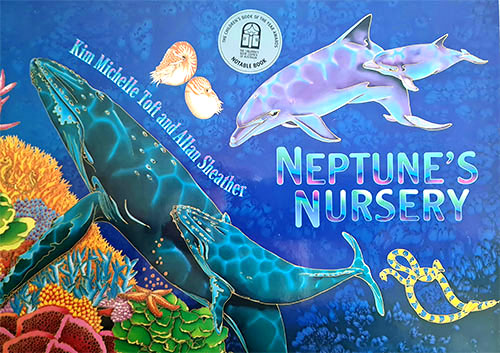 This is a 'hide and seek' book at its best. Combining superb hand painted silk illustrations and classic rhyming text, the reader is challenged to find the mysterious creature hiding in the highly detailed pictures. It is at the end that the seahorse is revealed as the amazing creature because his Dad gave birth to him!  The book also looks at the reproductive habits of a wide variety of sea creatures.
Extension information in the back of the book provides interesting facts about the underwater animals featured in the book.
Excellent for school projects.
 Extract from the book
I am a wonderous creature
my birth is so unique
look closely and find me
in an ocean hide and seek.
PUBLISHER: UQP 1998
ISBN: 0 07022 3112 6
Suitable for early childhood and lower primary
Awards
Notable Children's Book – Children's Book Council of Australia 2000
Shortlisted – The Australian Wilderness Society 2000
Best Illustrated Children's Book – Royal Zoological Society NSW 2000
Testimonial
This is a wonderful picture book for kids who want to learn more about our fascinating underwater world. The book looks at many marine animals and concludes with the strangest of them all, the sea horse. Highly recommend.
React Vol 3