Kim Michelle Toft
Silk Artist | Author | Illustrator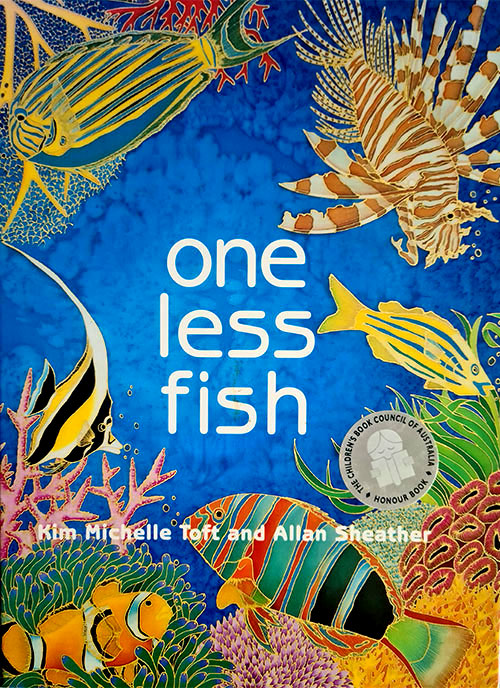 A spectacular picture information book set on the Great Barrier Reef. The fish shimmer from page to page with Toft's vivid hand painted silk illustrations.. Co-written by Allan Sheather, the authors use classic rhyme as an environmental countdown is unraveled.
 Extract from the book
Twelve gracious angelfish
thinking they're in heaven
along came the divers
and now there are eleven.
PUBLISHER:
Silkim Books 2020
UQP 1997
ISBN: 978 0 9942388 5 6
Suitable for early childhood and lower primary
Awards:
Honour Book – Children's Book Council of Australia 1998
Shortlisted – The Australian Wilderness Society 1998
Shortlisted – Koala Awards 1998
Best Lower Primary Children's Book – Royal Zoological Society NSW 1998
Best Children's Book – Benjamin Franklin Awards USA 1999
Top 10 Children's Book – Teacher's Choice Awards USA 1999
Testimonial:
One Less Fish is a beautifully crafted book . The author and illustrator's love of the ocean shines through with the clever verses and brilliantly coloured silk illustrations.
Magpies Vol 13