Kim Michelle Toft
Silk Artist | Author | Illustrator
Silk Painting Kits Now Available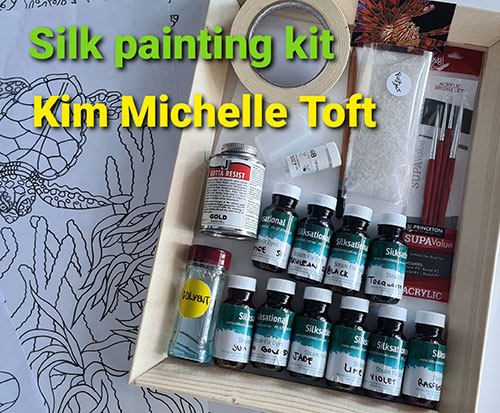 Following the release of my video How To Paint On Silk For Beginners, I had a lot of requests for a silk painting kit to accompany the tutorial. The kit contains everything you need to paint 3 silks 30 x 40cm, even the boards to stretch the finished silks onto and the hanging system to use to hang them straight on to the wall.
The past month in Victoria has been inspiring, rewarding and definitely memorable. I have met a lot of very interesting people and I will be following up on some potential business connections , including a possible residency at The National Aquarium in Plymouth , England and an exhibition and education program at Salish Sea Aquarium. I was also interviewed for an Alaskan radio station and an article about the Bateman Foundation ,however one of the biggest highlights was spending time with Robert Bateman on Salt Spring Island.
Spending over a month in one place gives you a real feel for a place and its community. Although Victoria is a very pretty city it faces challenges like most cities around the world including homelessness, a sagging economy and political unrest. The national election was held while I was here and even though the party I preferred was reelected not all citizens of Canada were happy with the result. But the one big thing that I did notice was that most people I talked to were worried about the state of the environment and were wanting to take action to help with its protection and conservation , which gives me hope for the future.
Over the next 2 weeks I am looking forward to spending time with my daughter Casey in Kelowna and going on a road trip to Banff for a few nights, before heading home to Ballina at the end of the month.
Next week I will be telling you all about my next exciting Arts project , the installation of the mural on the side of the Ramada in Ballina , stayed tuned. So until then lets continue to nurture nature , art and education.
WKR
KMT