Kim Michelle Toft
Silk Artist | Author | Illustrator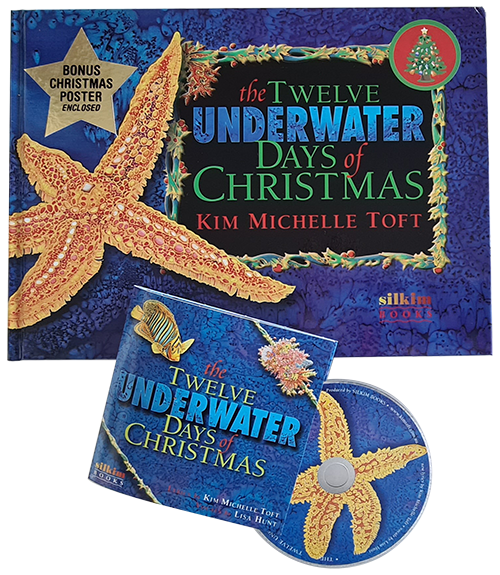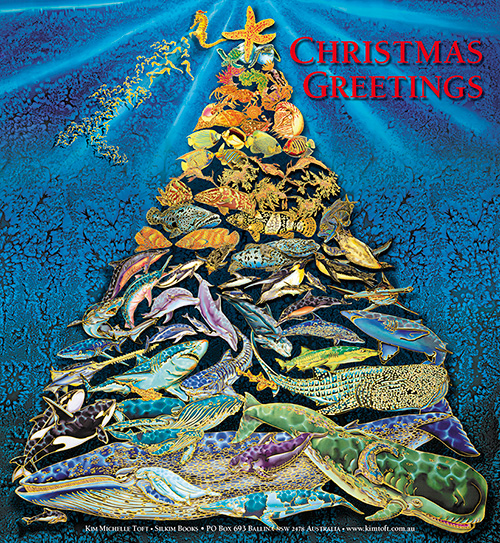 The Twelve Underwater Days Of Christmas
Be enchanted by Toft's lyrical adaptation of this Christmas carol classic. Combined with her stunning hand painted silk illustrations of marine life, this book captures the magic of both Christmas and the underwater world. The book builds to a spectacular fold down poster of a Christmas tree made up of the creatures.
Extension information in the back of each book is an excellent resource when looking at endangered animals living in the oceans throughout the world.
The Twelve Days Of Christmas also has a companion CD . Three tracks preformed and mixed by the acclaimed soul singer, Lisa Hunt.
Extract from the book
On the fifth day of Christmas my true love gave to me
Five pearly shells, four crawling crabs, three sea slugs ,
two turtle eggs and a seahorse on a sea star.
PUBLISHER:
Silkim Books  2007
ISBN:
978 097 5839041 Hardcover
978 0 9758390 58 CD
Suitable for early childhood and lower -upper primary
Lyrics For Song Available:
Click Here
$25 Hardcover plus free poster
Testimonial
Kim Michelle Toft's , The Twelve Underwater Days of Christmas is a celebration, not only of the season, but of the beauty of our world and its gift to us. Her unique silk illustrations are simply marvellous!
Readilearn