Kim Michelle Toft
Silk Artist | Author | Illustrator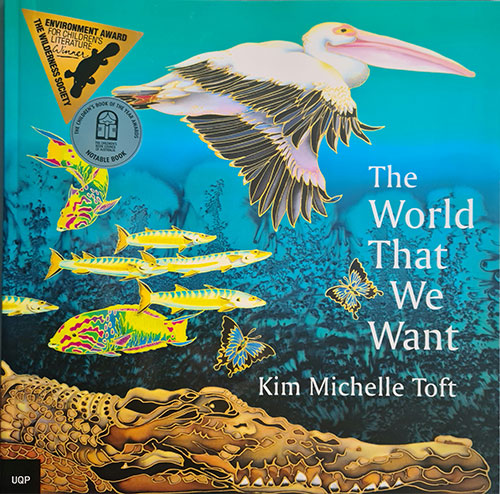 A stunning interactive environmental picture book illustrating the unique ecosystems of Far North Queensland in Australia. Nine ecosystems containing 5 incredible animals build to the climax, bringing all 9 habitats and 45 creatures together for the reader to find. The story is a delight , a modern ecological nursery rhyme modeled on the classic , The House That Jack Built.
Toft's vibrant and colourful hand painted silks make this a must have environmental picture book.
Extract from the book
This is the river
that weaves through the forest
that filters the air
that circles the world that we want.
PUBLISHER:
UQP 2004
ISBN
0 7022 3482 6 paperback
Suitable for early childhood and lower-upper primary
Extension information in the back of the book is excellent for school projects and general knowledge.
Awards
Best Non-fiction Picture Book – The Australian Wilderness Society 2005
Notable Book – Children's Book Council of Australia 2005
Best Illustrated Children's Book – Royal Zoological Society 2005
Green Earth Book Award – Honour Book USA 2006
Testimonial
If all books were as beautiful and as educational as this one , more children would be eager to learn about our natural world and its importance.
Australian Book Review