Kim Michelle Toft
Silk Artist | Author | Illustrator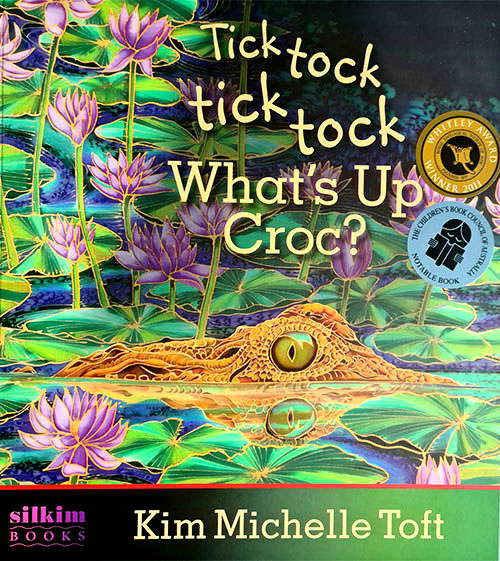 Tick Tock Tick Tock What's Up Croc?
Spend a day in the life of a saltwater crocodile . Meander through poetic prose to find out why this prehistoric reptile has stood the test of time. It truly is the last of the mighty dinosaurs. Once again Toft's unique hand painted silk illustrations capture the soul of one of the most successful and dangerous predators of all time.
The anatomy and amazing facts about crocodiles are in the back of the book. Excellent for school projects.
Extract from the book
And when all are hidden and stashed away,
she'll meander ever so slowly down the lazy river,
a remarkable reptile survivor of time,
the last of the mighty dinosaurs.
PUBLISHER:
Silkim Books 2011
ISBN:
978 0 9758390 7 2 paperback
Suitable for early childhood and lower primary
Teachers Note Available:
Click Here
Awards
Best Children's Book – Royal Zoological Society of NSW 2011
Notable book – Children's Book Council Of Australia 2012
Selected READ Project PNG – World Bank Initiative 2013
Testimonial
The illustrations in this fascinating book are truly amazing. The book has piqued the interest of the students and they are keen to find out more about this incredible reptile. Thankyou again for bringing another magical book!
Jan Bennett