Kim Michelle Toft
Silk Artist | Author | Illustrator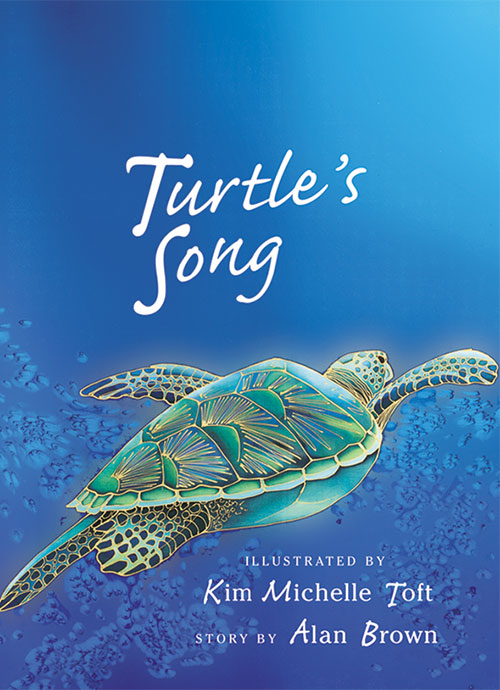 A lyrical journey of the life of a green sea turtle from hatchling beneath the sand of a coral beach, through wanderings at sea, to adulthood and finally returning to her place of birth to lay her eggs. Working with Alan Brown's poignant story ,Toft's magnificent hand painted silk illustrations capture the precarious and ancient life of this remarkable and critically endangered marine reptile.
Extension information in the back of the book is excellent for school projects.
Extract from the book
I am turtle.
My eyes are black , my shell is green.
Wide ocean calls me , as I lie curled in the dark.
Tides roar in my blood , surf pounds in my heart.
Wake little turtle, wake!
PUBLISHER: UQP  2001
ISBN: 0 7022 3219 X
Suitable for early childhood and lower -upper primary
Awards
Best Picture Book – The Australian Wilderness Society 2002
YARA Awards 2001
Best Upper Primary Children's Book – Royal Zoological Society NSW 2002
Best Picture Book – Inaugural Young Readers Award 2001
Shortlisted – The Wilderness Society 2002
Testimonial
This book is one of the most visually gorgeous books to appear in Australia. Kim Michelle Toft's silk paintings fully conveying the sense of the tropical sea and the majesty of this ancient mariner.
The Sunday Age